When you think about proposing to your special someone, you likely have a million things running through your head. What happens if I forget the ring? What do I say? Should I hire a proposal photographer? How can I make the proposal special?
Your proposal is a huge moment in your relationship. It's the big romantic gesture that tells your partner, and the world, that you want to spend the rest of your lives together. How amazing is that? I know that as a proposal photographer, I've been blown away by the special moments I've been lucky enough to witness.
So naturally, you might be a little nervous planning something so important. How do you plan a proposal that will totally wow your sweetheart?
For that question, we're turning to the experts. I chatted with Stephanie of Sweetheart Events and Leslie of Elle Weddings, two people who have lots of experiencing planning epic proposals. Below they share their tips for planning your proposal and why it's so important to have a proposal photographer.
---
Please note: the proposal photos below were taken by me and were not necessarily planned by Sweetheart Events or Elle Weddings.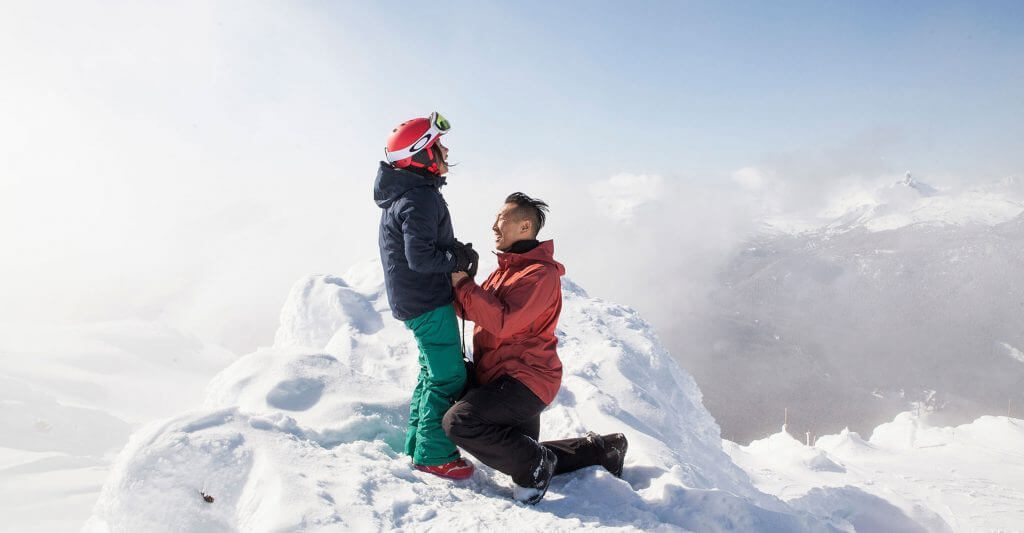 Why do people need help planning their proposals?
Stephanie: While hiring a proposal planner is still a new service, we find that the majority of our clients are traveling from around the globe and do not have the resources or friends/family available to assist in the execution of the proposal. When you're traveling, it's easier to hire a proposal concierge to ensure they understand your vision and then can fully execute it. You have an incredible idea, leave the rest to us professionals and enjoy the moment!
Leslie: I believe there is a need for this proposal planning services because of a few reasons:
1) Busy bees: People are working harder than ever to balance work, family and social life. This leaves them with little time or energy to research and plan a special proposal.
2) With social media being such a huge part of our everyday lives, we see all the sweet proposals put together by men and women and now we desire the same! Expectations are set high and I'm quite sure the majority of people secretly wish for a well-thought out proposal.
3) We are all mindful of spending money and planners will help you cut all corners possible to stay within your budget.
Why hire a proposal photographer?
Leslie: The raw feelings and unbiased reactions during a marriage proposal are the best moments to capture! You can never duplicate that same moment ever again so to see them in a photograph brings back the wonderful emotional rush. The shock and surprise on one's face and the pure ecstasy and joy on the other is a pretty damn amazing thing to see in my books!
Stephanie: As women, we dream of our wedding day but before that, it's how will we get engaged?! It is such a surreal moment and we know you've spent hours dreaming it up and planning every detail to perfection so we want to relive it over and over again. Personally, I'm all about the keepsakes – those moments you can't redo and it's a great way to share the news with the world 😉 I explain it all in my post about the importance of hiring a proposal photographer.
Any proposal planning wins and fails you can tell us about?
Stephanie: Let me share a story from a proposal in Whistler a few years back. This proposal might be our most popular yet but not many know the behind the scenes story. Michael had hired me to execute his proposal to Chloe. They were traveling to Whistler and he wanted to pop the question in a west coast but intimate setting. We chose Stone Circle in Whistler. Chloe loved string lights so that is where our decor budget went. The end result was beautiful but would not have happened without a team effort. On the day of the proposal, Beth and I arrived to Stone Circle with approx. 300 feet of string lights. It was an extremely windy day and after hours of failed attempts to get these lights in the trees and sweeping up countless broken lightbulbs, we were close to admitting defeat. We had one hour left and with the help of our incredible proposal photographer, we were able to get the remaining 150 feet of lights in the trees and generator on before they arrived. In the end, it was a win but definetly a BTS story I will never forget.
Leslie: The most memorable proposal-planning win (ironically also includes a planning fail) was one I organized on a private boat for a client during an evening of the summer fireworks. I arranged for a florist and decorator to fill the boat inside and out with beautiful orchids, faeire lights, and white chiffon draping, and had a proposal photographer pose as an "event photographer" for the fireworks. The client had requested for a private chef and we were able to find someone who prepared all of the bride-to-be's favourites dishes, along with a mini high-tea tower catered by La Petite Cuillere. Everything looked amazing! The only thing that wasn't so amazing was the bride-to-be's sensitivity to motion sickness on the sea. She was extremely nauseous and could not bear to look at the food. She spent most of the time inside to avoid looking at the moving water and smelling the ocean. But she did say yes!
What is your best advice for someone planning a proposal?
Leslie: Don't overdo it – it comes out obvious and cheesy. Try something more "you two" and less obvious leading up to the proposal (i.e. stay away from candles and rose petals leading to more candles and roses with photos of your life together). Incorporate your memories with each other or something special and unique that only the two of you would understand. Let it happen naturally.
Stephanie: Hire a proposal planner…ok that's the biased answer! Real answer: have a rain plan or Plan B. Even after dozens of proposals, we are always utilizing our backup plans. We even had one proposal that went to Plan D (yes, we have that many backup plans). If you are tackling this on your own (props to you), make sure you have two locations in mind and enjoy the moment. Also, booking a nail appointment for your partner doesn't hurt so they can show off that sparkler the next day!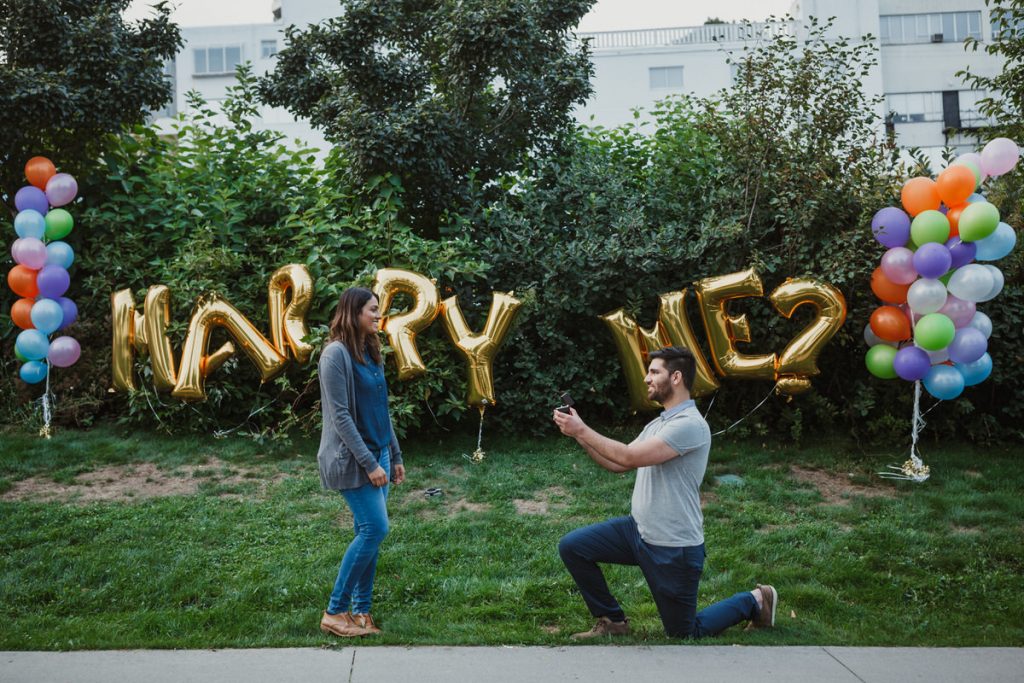 Finally, can you share your favourite proposal story?
Stephanie: Oh gosh, I have so many but one of my favourite secret agent plans might be where I took on the role of Venue Coordinator. I met my couple to show them around Cecil Green Park House. Halfway through our site visit, Phoebe opened the doors to the Yorkeen room and walked right into her own proposal. A close second is when we surprised our planner, Caitlyn, with her proposal to boyfriend (now husband), Mike.
Leslie: There are so many out there but I would have to say the story of Zoey and Frank. It took place last December in the couple's home as they were decorating the tree in time for the holidays. The couple use the same handmade ornaments every single year and recognize each and every one of them. This time, as they sifted through the box, Zoey picked up a small music box ornament and analysed it, making note that she's never seen that particular one before. She let it dangle from her fingertips and eventually opened it to reveal a beautiful ring. By the time she could even look up, Frank was already on one knee. A sweet and simple surprise.
---
A bit about Stephanie:
Hey friends, my name is Stephanie and I am the Owner and Creative Director of Sweetheart Events and perhaps one of the first to congratulate you on this next step in your relationship when you meet with me. I love the idea of working with couples and providing a personalized experience. With dozens of proposals and a 100% success rate, we hope to be the ones assisting you in this special moment so you too can enjoy every detail of the day.
I first entered the event industry back in 2009. I have worked with highly respectful event planning companies and in 2013 I branched out and created Sweetheart Events.
How to work with Stephanie and Sweetheart Events:
We love working with clients for the full service to ensure every detail is carefully curated and executed but we understand the budget may not always be there and you also have a wedding to pay for after; we get that! That being said, we offer full service proposal planning where we cover location, photography/videography, decor and the plan but also more of a DIY service too. This Proposal in a Box package includes champagne, our signature flutes, a love letter in calligraphy and a 30 minute coaching session to handle any questions you may have. Our average client's investment is $3500 (planning, photography, venue and decor).
Anyone interested in our services can send us an email or give us a phone call. The majority of our clients will call us so there is no written evidence 😉
Visit: http://sweetheartevents.ca/
Contact: SAVETHEDATE [at] SWEETHEARTEVENTS.CA
778.988.9384
A bit about Leslie:
My name is Leslie Luu and I am the owner and chief planner of Elle Weddings. I love to make people happy and I love challenges and new ideas. I offer a variety of services including full planning, partial planning, day of coordination and design/décor for all events.
I first stepped foot into the wedding world in 2014 when I was looking for a seasonal job to determine if my hobby (party planning and decorating) was something I'd to make a career out of. I found a job with Chic and Unique Events. I remember my first shift so clearly – a Russian wedding at Burnaby Hall with 4-5 other decorators scrambling to get the place decorated in time. I was barely given any instructions so I observed what everyone else was doing and followed their moves. There was no time to ask any questions. On my first day, I was already expected to know how to arrange curly willows in the vases with the hanging candles, to pull chair covers on all the chairs, to cut and glue diamond ribbons on vases. We were doing a million things at once but the end result was worth it. I came back to work the following day and continued to work throughout the entire summer, learning more than I ever expected.
How to work with Leslie and Elle Weddings:
Our proposal planning services offer a full customizable package: One complimentary consultation, full service design and coordination (décor and floral design), and unlimited email interaction. We handle everything from start to finish by working closely with you to come up with a very unique and matchless proposal idea. We will handle all the stressful details for you and help with the decision-making process so that it saves you from doing hours and hours of research on the Internet. We plan proposals for people of all ages, race, sex, and gender.
Visit: http://elleweddings.ca/
Contact: elle@elleweddings.ca
IG: elle.weddings
Facebook: Elle Weddings
---
A huge thank you to Stephanie and Leslie for taking the time to share their proposal planning wisdom with me and all of you. If you'd like to learn more, follow their links above to reach out to them. And if you'd like to book me as your proposal photographer, or chat more about your proposal plans, get in touch.